Ariza Credit Union awarded ten (10) scholarships to students pursuing education at various levels. The 20th Scholarship Programme presentation was held on Thursday September 5th, 2019. These scholarships are an essential part of the Credit Union's commitment to the growth and development of youth as they further their education and accelerate their financial freedom.
In her welcome remarks, CEO of Ariza Credit Union – Mrs. Lucia Livingston-Andall said "We are pleased to continue to offer these scholarships. Ariza will never ask you to pay us back but we do ask that you pay it forward by helping someone along the way!"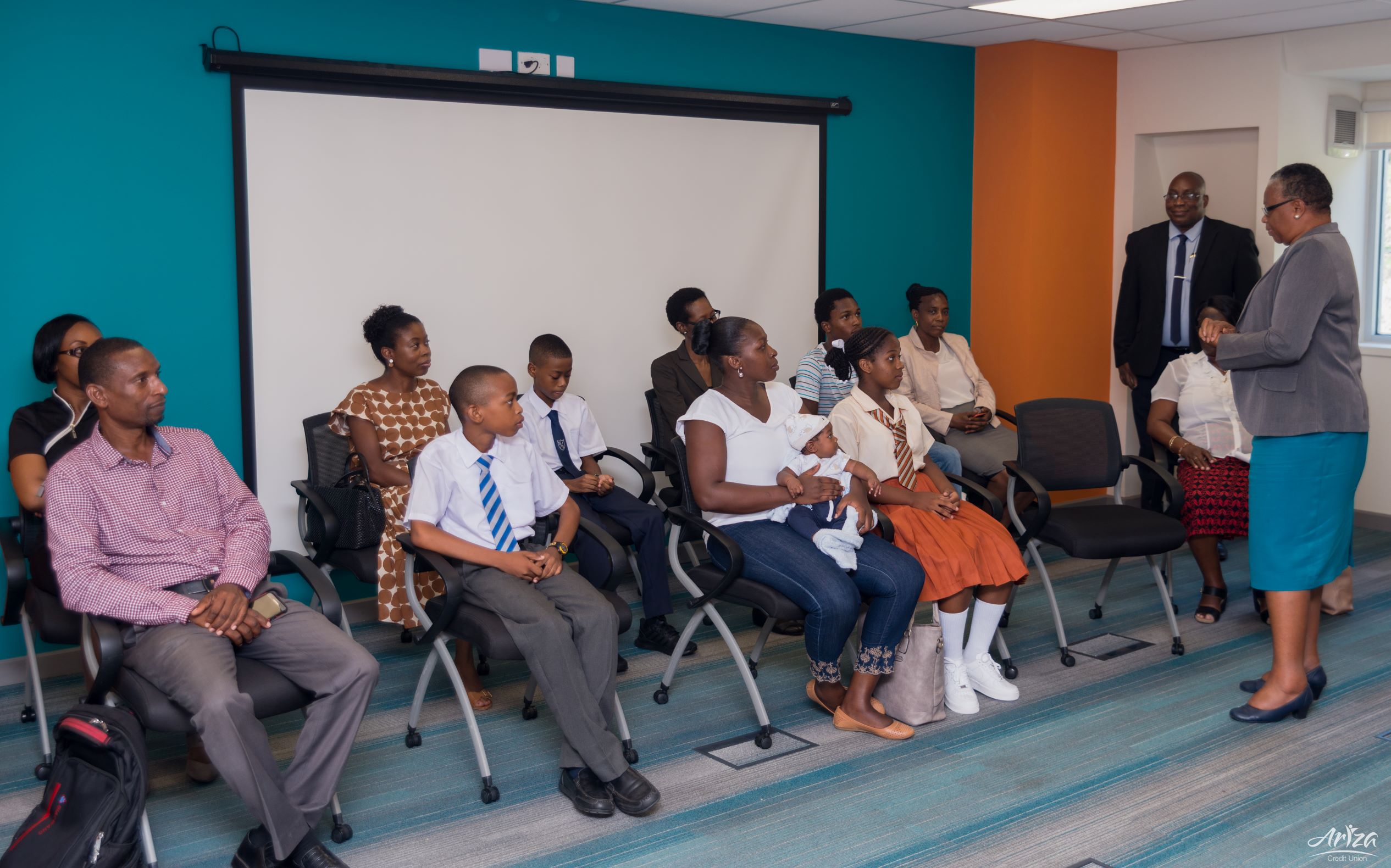 The four scholarships currently available to members of Ariza Credit Union are:
Secondary School Scholarship
As is customary, two students were recipients of the Secondary School Scholarship: Ms. Kimaya S. J. Richards and Ms. Alistasha Ottley. The Secondary School Scholarship will provide each student with $1000.00 annually for the duration of their secondary school life. These students were selected based on their academic performance in CPEA and financial need. Kimaya attended Vendome Roman Catholic School and now attends St. Joseph's Convent – St. George. Alistasha attended St. Andrew Methodist School and now attends St. Joseph's Convent – St. Andrew.
Blue Ribbon Scholarship
This year, two students received the Blue-Ribbon Scholarship based on their CPEA scores. This scholarship is awarded to the holder of an Ariza Education Savings Plan who achieves the highest CPEA score. Both Mr. Samuel Roberts and Mr. Joseph De Souza ranked 2nd on the island in the 2019 CPEA and will receive $1000.00 for every year of their secondary school education. A requirement of the scholarship is that the students' grades are kept at a high standard; Joseph, a past student of Westmorland Junior School, continues his education at Westmorland Secondary School, Samuel attended Mt. Rose SDA School and continues his secondary education at Grenada SDA Comprehensive School.
Brighter Future Scholarship
The Brighter Future Scholarship was designed to assist students pursuing a tertiary education at T. A. Marryshow Community College. The recipient or his/her parent must also be a member of Ariza Credit Union and qualifies based on merit and need. The successful scholarship candidates were Mr. Jenebi Benoit and Mr. Samuel Austin who both attended Presentation Brothers' College. Each awardee will receive $1500.00 per year over their two years at TAMCC.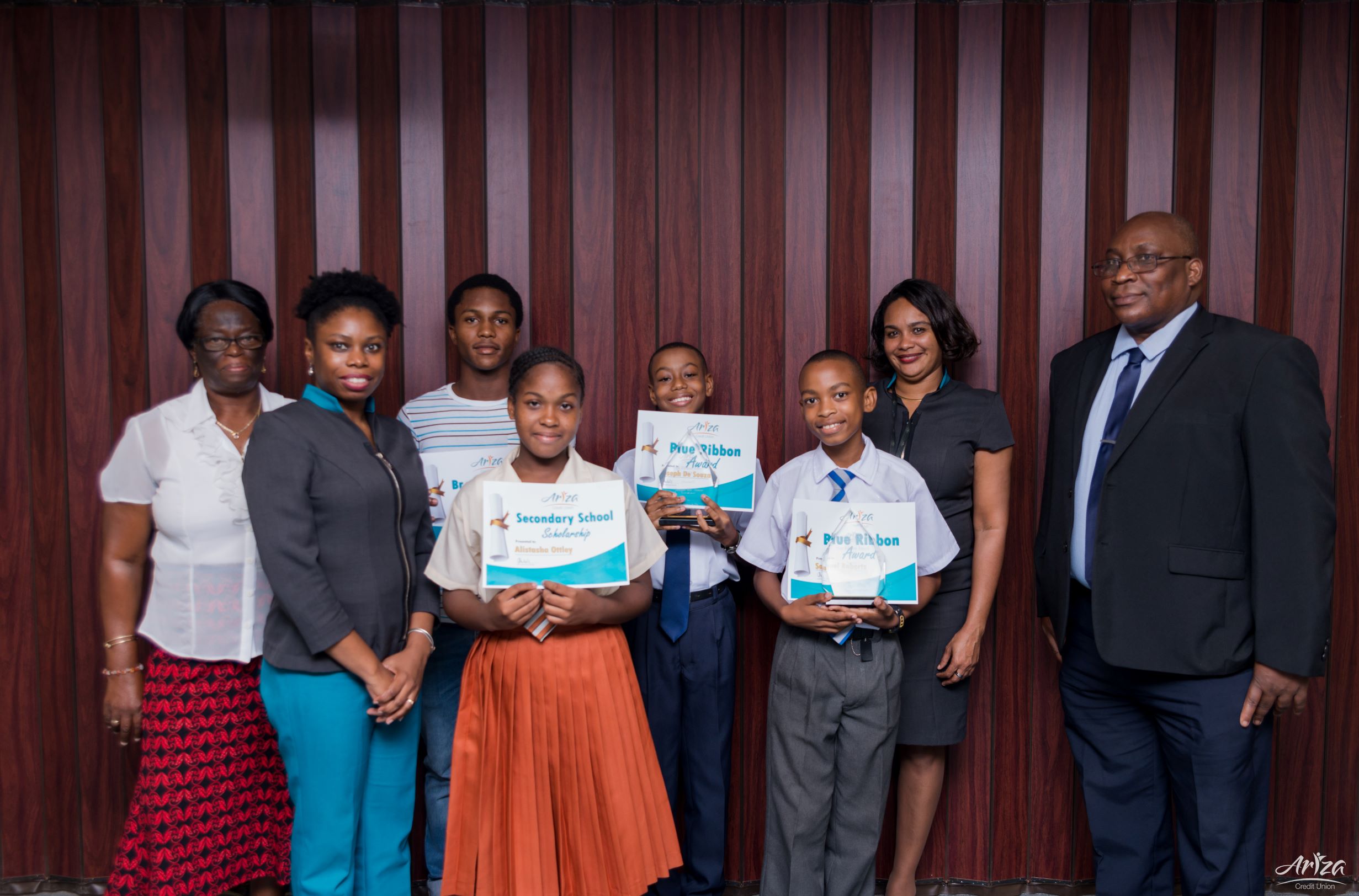 Joseph Bain Scholarship
The Joseph Bain Scholarship caters to members who are pursing university education at home or abroad. The four member recipients will be awarded $5000.00 each to assist in funding their education in the subject areas as follows:
Taralyn T.K. Charles – BSc. Psychology at University of the Southern Caribbean
Trist'n Joseph – BSc. Mathematics at Pace University
Shenade Gordon – BSc. Physics with Medical Physics at University of Sheffield
Texanne Gabriel – Medicine at St. George's University, Clinical Unit, United Kingdom
At the presentation ceremony each recipient was urged by Mrs. Meryl Lord, Chairman of the Scholarship Committee, to continue their hard work and strive for the top.
Ariza Credit Union congratulates all recipients and students on their hard work and achievements at various levels as they continue their educational journey. All members are encouraged to pursue their dreams and progress towards financial independence.
Visit us on Facebook and Instagram to learn more about the recipients and Ariza.